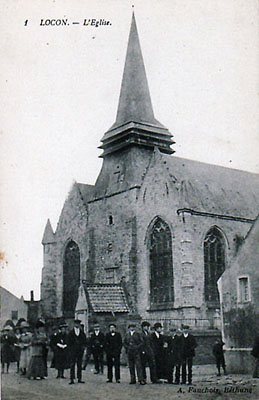 Locon Church pre WW1 right.
The photo rightt is thought to be pre WW1 vintage, the name of the church has not been identified and this is to be further researched.
La Couture to Locon, it appears there are a limited number of crossings over the River Lawe that separates La Couture from Locon.
The 2nd battalion was in billets at Les Chocquax and Le Tombe Williot (green area), on 17 March 2023 they marched approximately 1.5-1.8 km. to a church at Locon.
Locon stands on the left bank of the River Lawe, 5.5km north-north-east of Bethune. Here on April 12 1918 the Allies were forced to fall back to Hinges as the German army assaulted and eventually took Locon.