Lieutenant-Colonel Victor George Howard Rickard - 1873-1915.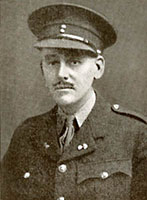 Husband of Jessie Louisa Rickard, Pre aux Clercs, Parame, Bretagne, France.

Lt.-Col. Victor George Howard Rickard married Jessie Louisa Moore, daughter of Reverend Courtenay Moore and Jessie Mona Duff, in 1908.
Victor George Howard Rickard was born near Gosport circa 1873 according to the 1881 census. He was the son of George P. Rickard of Dublin and Caroline of London. George P. Rickard was a Civil Service Senior Clerk in the Admiralty.
The London Gazette for Tuesday 12 July 1892 confirmed the folowing appointment -
Gentleman Cadet Victor George Howard Rickard, from the Royal Military College, to be Second Lieutenant in the Royal Munster Fusiliers, in succession to Lieutenant to W.C. Oates promoted.
Major Rickard took over command of the 2nd Battalion on the 6th February 1915. By the 18th February he was promoted Lieutenant-Colonel. During his short tenure as commander of the 2nd, he was well respected by the troops.
On the 9th the battalion came out of the trenches and advanced. Lieut.-Colonel Rickard had been following 'D' company, and had not gone more than fifteen paces from the British lines when he fell, killed instantaneously by a bullet.
Death's Face
Is Towards The Light
It's Other Name Is Forward
Died 9th May 1915. Aged 40 years.
Killed in action by enemy bullet,
during the Rue du Bois battle.
Grave location, Cabaret-Rouge British Cemetery, Souchez.
Grave reference XXVII. A. 14