Jessie Louisa Rickard - 1876-1963.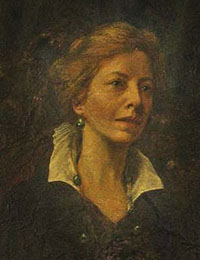 Born in Dublin as Jessica Louisa Moore, younger daughter of Canon Courtenay Moore M.A.,.
Jessie spent her youth in Mitchelstown, and when only 18 (1894) wrote a series of hunting sketches which appeared in the Cork Examiner. She married Robert Dudley Innes Ackland, by whom she had a daughter, and later divorced him which caused a rift with her father.

She next married Lieut. Colonel Victor Rickard, (Roman Catholic) a professional officer of the 2nd Battalion Royal Munster Fusiliers who featured prominently in the painting 'The Last Absolution of the Munsters' by the war artist Matania. Lieut. Colonel Victor Rickard was KIA 9 May 1915.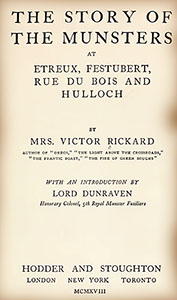 Now widowed and with a son to support, she reverted to writing as a source of income. She first published The Story of the Munsters (1915) which provided the subject for this well-known Matania picture, depicting the Chaplain of the Munsters, Father Francis Gleeson, giving the Munsters their last absolution. She also published a series of articles in New Ireland during 1915 entitled The Irish at the Front, in which New Ireland claimed several soldiers received medals as a result.
Illness and publishing difficulties due to the WW2 brought an end to her industrious output. She came to live at Lower Montenotte in Cork city in 1948 where she wrote her last novel. She was a close friend of Lady Hazel Lavery (1880–1935). A debilitating stroke in the 1950's left Jessie paralysed on one side and she taught herself to write with her left hand, with characteristic courage. In her later years, she lived in the Montenotte home of Denis Gwynn whose wife was a daughter of Lady Lavery by her first marriage.
The Times Saturday January 8th 1921.
The Times Saturday January 15th 1921.
Mrs. Victor Rickard has presented to St. Lukes, Pinner, a memorial painting of 'The Last General Absolution of the Munster Fusiliers', which represents an incident which occurred before the engagement in which her husband, Colonel Rickard, was killed.(London Times).
However some years ago the Parish priest of St. Luke's, Father Robert Plourde advised me by email the copy of the Last General Absolution presented by Jessie Rickard, has been long lost. To date a definite connection with St. Luke's R.C. Church, the 'memorial painting' and Jessie Rickard has not been established. Soldiers names on the Pinner war memorial were checked, but none identified as having served with the Munster Fusiliers.

Extract from Wikipedia.

Having moved to England for some years, she was received into the Catholic Church in 1925 by Rev. Joseph Leonard C.M. who at that time was stationed with the Vincentians at Strawberry Hill, London.

The Times, Wednesday, Jan 30, 1963.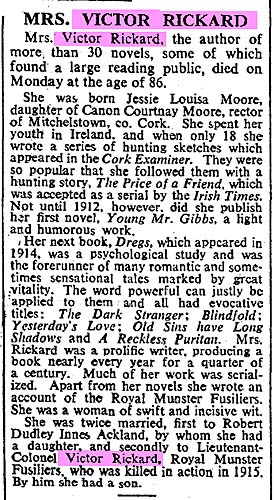 Her obituary appeared in the London Times.
Mrs. Victor Rickard's passed away on Monday 28 January 1963, Jessie was aged 86 and is buried in Rathcooney Cemetery, Greater Cork.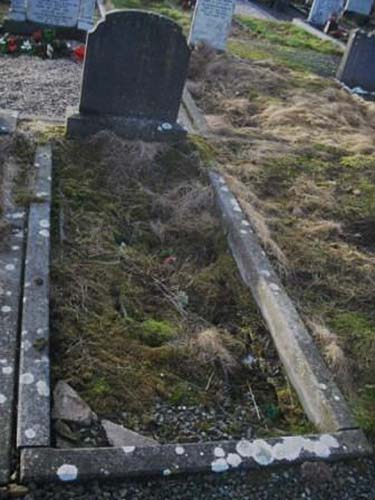 Photo right her grave in Rathcooney Cemetery, Greater Cork.
Credits: Portrait Jessie Rickard Dublin Art Gallery.
Biography: Wikipedia.
Bookplate image: Author's collection.
Mrs. Victor Rickard obituary Times digital archive.
Photo Mrs Victor Rickard's grave J. Prendergast.