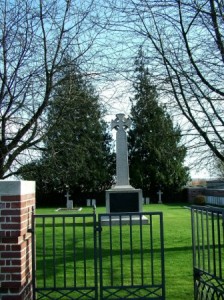 On the 27th of August, 1914, the 2nd Battalion of the Royal Munster Fusiliers were cut off and surrounded by the Germans at Etreux, in France, during the Retreat from Mons. In total, 95 Munsters were either killed in action or died of wounds, with some 450 taken taken Prisoner. This year, the Royal Munster Fusiliers Association will return to the site of the action to commemorate those who fought, died and were taken prisoner.
Association member, Mike McLoughlin, is organising a tour and for those interested in joining this tour please contact Mike as soon as possible. Please indicate to  Mike whether you want the application form sent by email or hard copy by post to your home address.
All places for this tour are now taken
DETAILS
2014 WWI Historical Tour to the Somme
Guided tour of war memorials and battlefields by a professional historian
When: August 25th to 29th.
Duration: Five days (4 nights).
Accommodation:  B & B in Hotel  in Saint Quentin, France.
Flights:  Aer Lingus from Cork to Paris (CDG) return.
Bus transfers: Airport/Saint Quentin/ Airport.
Cost: 580.00€pp (plus supplements).
Some of the proposed sites for tour
100th Centenary ceremony at Etreux Cemetery by RMFA
Museums in Albert & Peronne
Memorials/Cemeteries in villages east of Peronne
Visit Iron & Guise
Devonshire Trench Cemetery
Thiepval visitor centre & Ulster Tower
South African Museum beside Delville Wood
contact:
Mike McLoughlin
Ph (M) 087 7594 940
Email: [email protected]